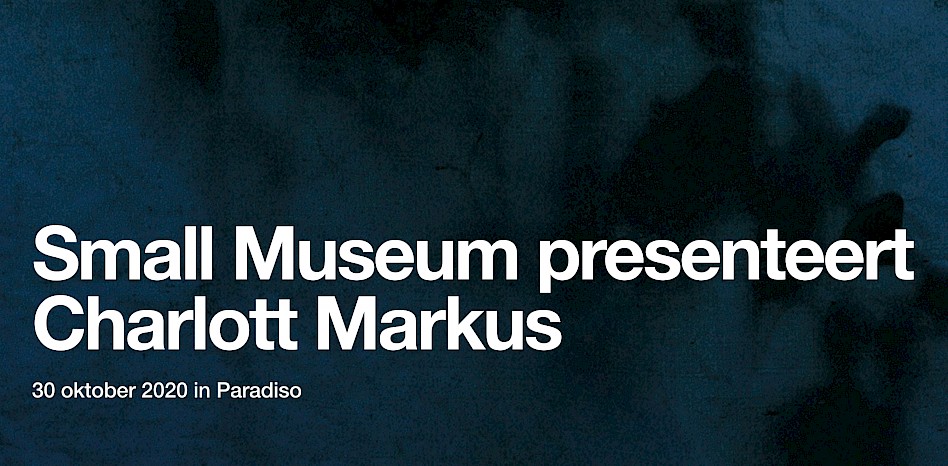 Finally in-between postponements and cancellations I am proud to be headlining a Paradiso event!
The Small Museum proudly presents 'Some Things Bleak' by Charlott Markus, exhibited in the smallest museum of the Netherlands on the facade of Paradiso, from 30 October - 20 December 2020.

In the Small Museum she will world premier a special edition from 'Some Things Bleak', a new series she started last year. "While being beautiful and bleak it is nothing but an abstraction of a drowning blue love and the longing for connection. Both a consolation and an illusion to contemplate".
The opening takes place on Friday 30 October outside at 17.00 at the Small Museum, right by the main entrance of Paradiso Amsterdam.
Reserve your spot and come join me for a drink!

THE SMALL MUSEUM
The Small Museum is the smallest museum in the Netherlands and possibly even the smallest in the world. The museum is located in one of the announcement cabinets on the facade of Paradiso. One of these cabinets has been transformed into an exhibition space, complete with a parquet floor, even top lighting and a back wall painted in 'Rijksmuseum gray'. In this small museum, Paradiso exhibits innovative works of art that are related to popular culture. Lernert & Sander, Bart de Baets, Job, Joris & Marieke, Simon Wald-Lasowski, Our Polite Society and Paul Nassenstein have previously exhibited in the museum.

This year's theme is Beauty and Consolation, based on a TV series by Wim Kayzer that aired in 2000 on the Dutch TV channel 'VPRO'. The question 'Tell me what makes this life worth living' was the basis of this television series in which 26 people, writers, philosophers, scientists, visual artists and musicians, reflected on the intimate relationship between beauty and consolation. Guests on the series were among others György Konrád, J.M Coetzee, Germaine Greer and Jane Goodall.

More information (in Dutch): www.thesmallmuseum.nl

OPENING
Due to corona measures, there are limited spots for the opening on Friday 30 October at 17.00 hrs. If you want to attend, please make a reservation in advance by sending an email with your name and contact information to sanne@paradiso.nl.