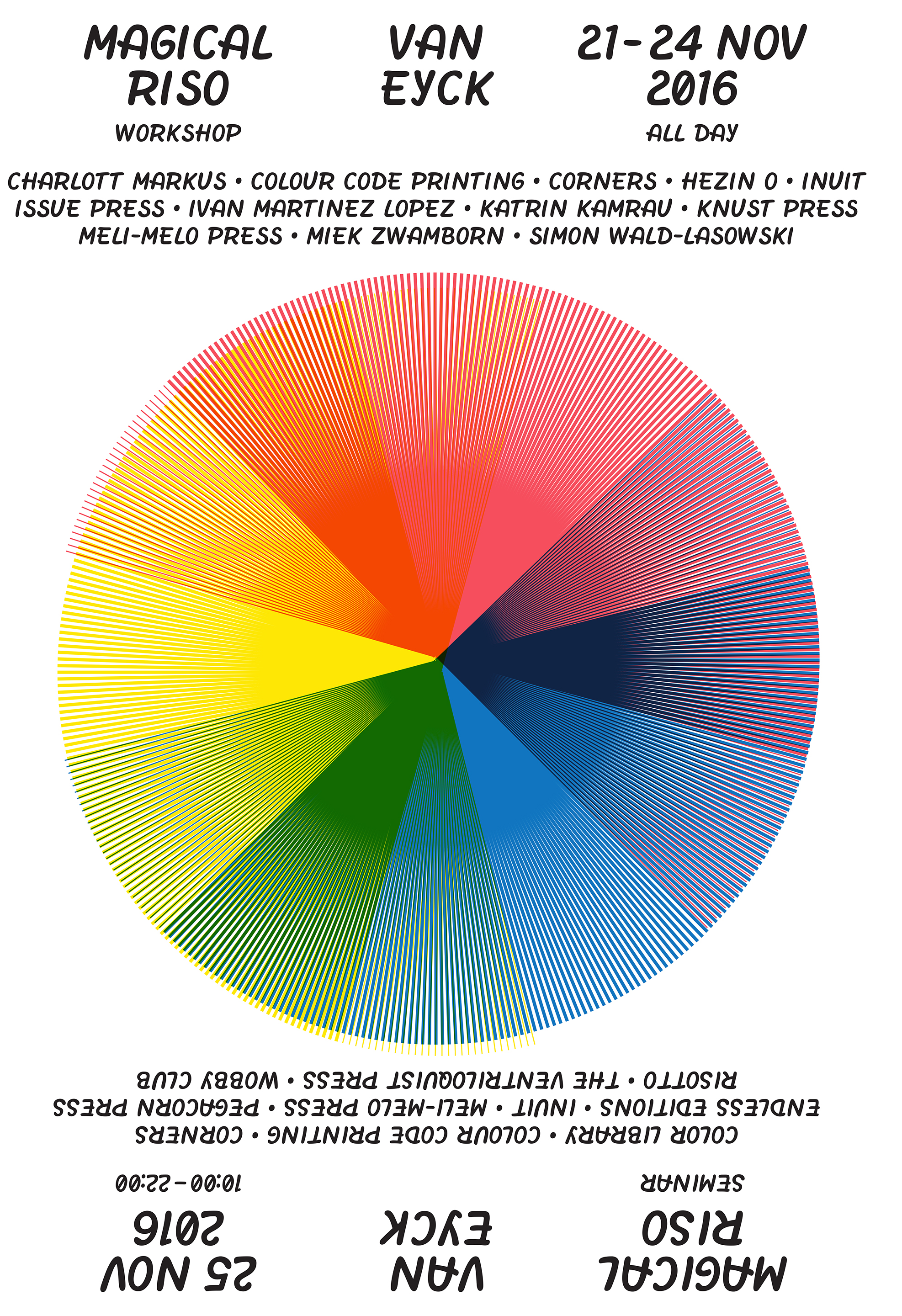 Happy to be invited for the Magical Riso events at the eminent Charles Nypels Lab at Jan van Eyck Academy:
MAGICAL RISO Workshop: 20 – 26 November, 2016
MAGICAL RISO Seminar: Friday 25 November, 2016
​MAGICAL RISO exhibition: 25.11- 20.12.2016
The use of Risograph - digital stencil printing - is becoming more and more widespread amongst artists, photographers and graphic designers. The technique is loved for the quality and vibrancy of the printed matter, the surprising colour effects and the unexpected results the machine puts out and moreover, the opportunities for self-publishing RISO provides.
After the successful Magical RISO, 1001 Printing Experiences edition in 2014, the Van Eyck organizes on November 25 the second edition of this Risograph expert meeting in collaboration with RISO BENELUX.
This second edition is extended with a workshop week in which six teams work together on a publication inspired by the book Nu 1 & 2 by Willem Sandberg. The teams are randomly composed of an artist and an expert. The RISO Workshop week will take place in the Charles Nypels Lab for Printing & Publishing. The daily production and test prints are on display in the exhibition space of the Van Eyck from 25 November until 20 December.
On 25 November we welcome artists and printers from around the world to the MAGICAL RISO seminar. They discuss the state of affairs in Risograph printing and will share their own RISO productions, experiments and experiences with the audience.
Publications made by the speakers and workshop participants are available and for sale in the bookshop. RISO BENELUX organizes a drum and ink lottery, top prize: a two-colour mz1070 duplicator!
PROGRAMME MAGICAL RISO SEMINAR: click here
MAGICAL RISO Workshop:
participants:
Colour Code Printing and Publishing – Canada
Corners – South Korea
Inuit Bookshop – Italy
Meli-Melo Press – Brazil
Issue Press – United States
Knust Press – Netherlands
Charlott Markus – Sweden
Hezin O – South Korea
Iván Martínez López – Mexico
Katrin Kamrau – Germany
Miek Zwamborn – Netherlands
Simon Wald-Lasowski – Netherlands
MAGICAL RISO Seminar
Speakers:
Color Library – Switzerland
Colour Code Printing – Canada
Corners – South Korea
Endless Editions – United States
Inuit Bookshop – Italy
Meli-Melo Press – Brazil
Pegacorn Press – United States
Risotto Studio – Scotland
The Ventriloquist Press – Norway
Wobby Club – Netherlands
Forum participants:
Charlott Markus – Sweden
Hezin O – South Korea
Issue Press – United States
Iván Martínez López – Mexico
Katrin Kamrau – Germany
Knust Press – Netherlands
Miek Zwamborn – Netherlands
Simon Wald-Lasowski – Netherlands